After two months of UK Lockdown to limit the spread of COVID-19 many of us are slowly starting to adapt to the "new normal" of social distancing and spending the majority of our time at home. When the news first broke about the lockdown measures we saw a lot of organisations hitting the pause button altogether, both for hiring but also for a lot of their active projects, which in some cases lead to furloughing employees in an effort to sit tight and wait for this to all blow over. The reality is our normal way of life is not returning any time soon, and as a result many of those companies that did hit the pause button are now making changes and adapting to a new normal in the tech world. As part of one of the UK's leading Tech Recruitment groups, we have been lucky enough to have continued to work throughout the pandemic, with full remote access and daily insights into the UK tech market, so we wanted to share some of our insights into the changes we have witnessed during this time.
8 things that have happened to the tech industry during the pandemic:
Many tech companies have prioritised and adapted for survival
Even some of the largest organisations in the tech world didn't have a strategic plan in place for a global pandemic, and with so much uncertainty in the market and the future it's no surprise that a lot of companies have been prioritising survival during the last two months. Research indicates that over 50% of London tech companies have made moves to prioritise the survival of their business, and 49% are expecting that COVID-19 could impact the viability of their business. Luckily the government schemes to safeguard businesses and UK workers such as the coronavirus job retention (furlough) scheme has helped a lot of tech companies navigate the waters of uncertainty, and while we may still see a lot of companies placing things like recruitment and expansion on hold, we are also seeing other companies thrive.
The nature of the pandemic has seen some impressive tech wins
We mentioned that some companies are thriving during the pandemic, and that is down to the nature of this virus. With the need to self-isolate and social distance comes the need for technology to bring us together, either for collaboration in work or socialising with friends and family, and tech companies like Microsoft and Zoom have seen a boom because of this. Zoom grew from 10 million daily meeting participants in December 2019 to a whopping 300 million daily meeting participants in April 2020. Microsoft also saw a 70% jump in daily activity users in just one month during the pandemic. Of course many eCommerce companies with online sales have seen an increase in traffic and sales during the pandemic, and not to forget the innovative tech companies that are contributing with data insights and technology to support virus tracking and social distancing. We rely heavily on technology for so many things in our lives that it is no surprise that some tech organisations have experienced growth in a time where many businesses have experienced the opposite.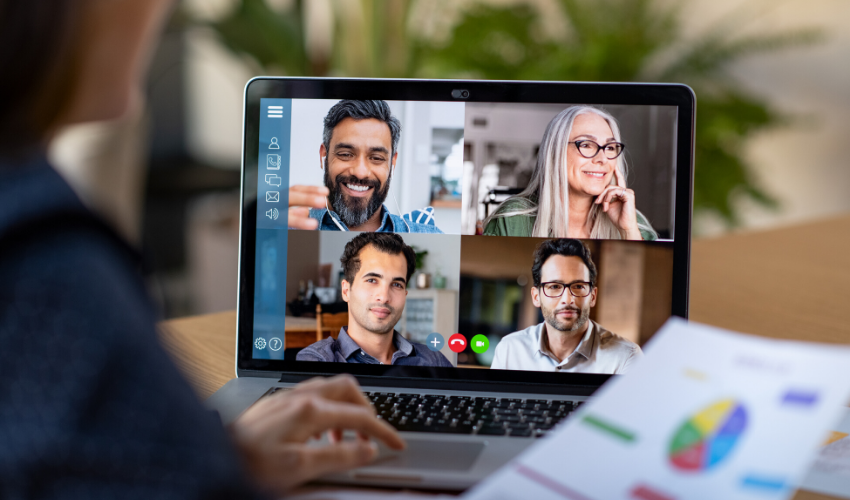 Companies have adapted for remote working
Now for many tech companies the concept of remote working wasn't exactly ground-breaking, but we have seen a huge increase in organisations moving to a 100% remote set up to cope during the pandemic, which we anticipate will have a big impact on future cultures. The companies that were reluctant to embrace remote working in the past have had to accelerate adoption in such a short period, that by the time covid-19 is a thing of the past, the option to remote work (even if it is just one day in the week) is likely to stay for those companies that can accommodate it.
Hiring has dropped dramatically – but not stopped
According to statistics from Indeed, job posts have dropped by over 50% for a lot of tech roles, however this has not put a stop on hiring altogether. The companies that have pulled away from hiring are likely to include those who are prioritising survival during the pandemic and it can also include vacancies shared by recruitment agencies that have potentially furloughed teams during the pandemic. As part of the Searchability group we have seen a mix of companies placing requirements on hold as well as companies finding a much more urgent need to find talent, and it's great to see so many companies adapting to keep on hiring during this time, especially with an increase in candidates finding themselves on the job market. Check out the below image to see how this has fluctuated.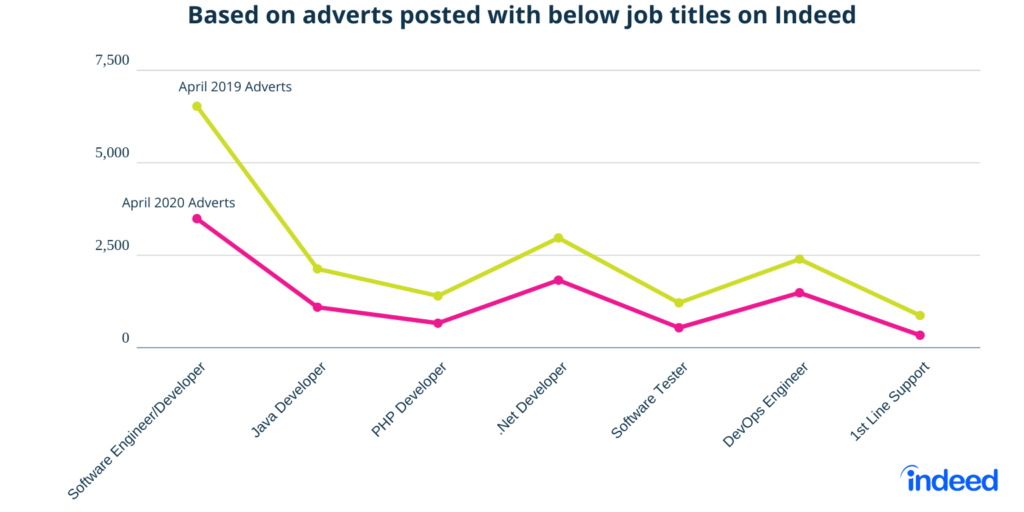 Companies still hiring are hiring faster
We caught up with the recruitment team at Searchability who have been working remotely throughout the pandemic to see how time to hire has been affected. At first the worry was that the inability to conduct face-to-face interviews could cause delays, however the companies who have been hiring have opted for remote video interviews, and because of this the time to hire has actually decreased across a lot of roles. This could be down to having extra free time during the lockdown either through lack of commute when working from home or even being furloughed and having more time to dedicate to a new job search. For example Steven Williams said:
"In April I placed a Senior JavaScript Engineer in only 8 working days, which is a role that would typically take far longer to fill due to the seniority of the candidate the client required."
Salaries for tech jobs have held the same
Despite some companies holding back and tightening the purse strings to survive through the pandemic, those still hiring have remained to do so mostly at the same market rate for salaries. Gabbi Trotter said:
"I discussed salary trends at this weeks digital Ministry of Test event as an attendee had asked how salaries were affected, however I pointed out that really on the perm market there is no reason for salaries to have dropped, and it would be a red flag for me if a company tried to offer less citing the pandemic as the reason."
We will continue to monitor how this moves over the pandemic – and if you are interested in getting access to our sister brand JobHoller's market trends tool to search for salary trends for any job role in any UK location please get in touch.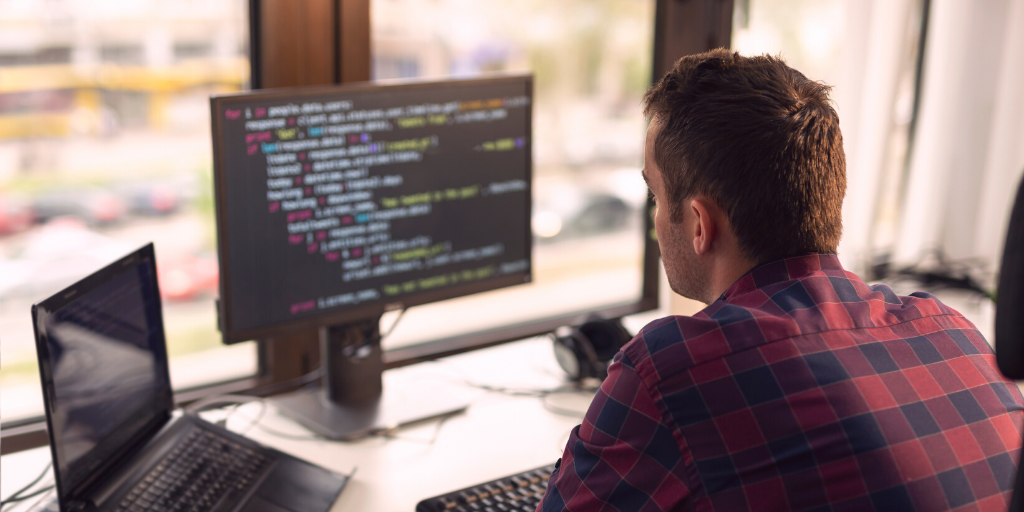 Companies with better work-life perks are winning out
Tech companies have famously boasted some of the coolest and quirkiest employee perks out there (check out Searchability's blog 10 Awesome Tech Company Perks That'll Make You Want to Switch Jobs!), however the pandemic has forced many of us to take a step back and prioritise what's really important. Many of us are now realising that time with family and friends, our physical and our mental health is what's important, so companies offering flexible working, work from home days, enhanced healthcare perks and wellness initiatives are becoming more attractive than those who rely on financial perks alone like big bonuses or sexy offices with beer fridges and ping pong tables. If you are a company looking to attract talent and aren't already prioritising work-life balance and wellness for your employees it could be time to revisit your offering.
Employer brands have been put under the spotlight
Most companies did not have a crisis plan for dealing with a global pandemic, however the way a company reacted during this time can have a big impact on their employer brand. There have been some fantastic stories from tech companies either prioritising the health and safety of their employees (such as Facebook's pledge to allow all employees to work from home on a permanent basis) or others giving back to the community during this difficult time (such as Bet365 boss Denise Coates donating £10m to NHS trust). Unfortunately some companies did not handle this as well, and the pandemic has really shone a light on the employer brands of companies that prioritised profits over their people. We will be keeping a close eye on how this changes over the coming months, and hoping to see more positivity and kindness from employer brands in the tech community. 
Are you a candidate interested in exploring what the market is doing in your area? Reach out to us today for a confidential chat! Likewise if you are a company that is unsure of what to do about your future hiring needs, let us know and we can give you some advice.