​
The response was incredibly varied, from classic rock to modern rap. Tristan (@TristanVVatson) from Manchester enjoys revisiting The Streets when he has time, especially their first album "Original Pirate Material", which many agreed with. However, as Jonathan (@jbjon) pointed out, the issue with The Streets, especially their "A Grand Don't Come Free" album is that you have to listen in full from start to finish! Some albums are just too distracting to listen to at work…

Karl (@iritsun) listens to anything and everything! From the musical stylings of Kanye West to the soulful Frank Turner, he said "no type of music wins", sharing his Spotify Top Songs list, which was incredibly varied! James (@JamesGurd) prefers more classic rock including the incredibly Led Zeppelin and Pink Floyd, whereas Abi (@abii_mohamed) loves listening to Cardi B's "Invasion of Privacy" album on shuffle while she codes.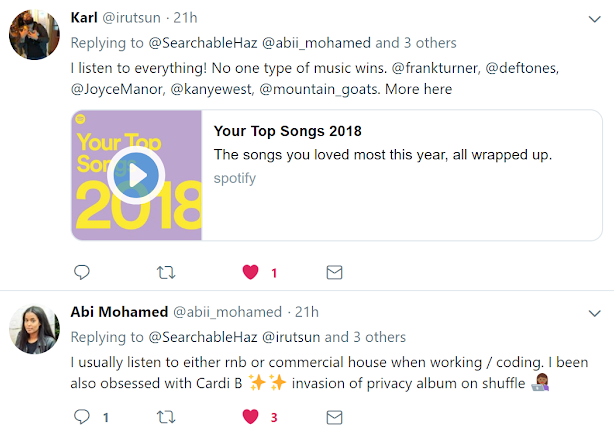 Another trend with #TechTunes is listening to music without lyrics, as suggested by Jonathan. One of my personal favourites that seems to have grown in popularity over the past year, especially amongst university students is "lo-fi hip hop radio" on YouTube
. Noisli is also a popular website, creating background noise and sounds to help you focus while working and boost productivity.
​I also asked some of my colleagues what their favourite music to listen to is in the office. In recruitment, it's important to create a buzz when you're trying to get new business! Liam and Chris said they love listening to techno as they spend a good portion of the day on Business Development and need to be pumped for it. Whereas Meg prefers to listen to something different depending on how the day is going, Spice Girls on a good day to celebrate and house music when she needs motivation!
In case you're interested, my year in music looked a little like this…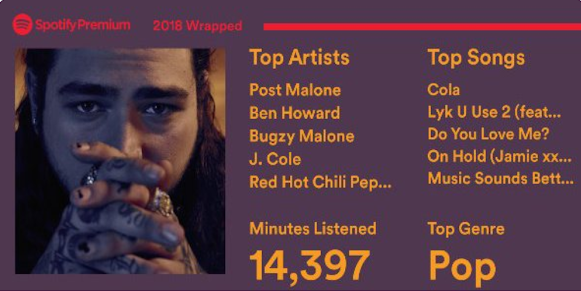 Got a favourite artist, album or genre you love listening to at work? Send us a message, we'd love to know your thoughts!
​