#Blockchain
It's hard to believe that a decade ago Satoshi Nakamoto conceptualised the distributed blockchain. Although blockchain existed prior to this, it wasn't until Nakamoto's 2008 model that it became more visible in the public domain. This blockchain keeps a secure record of data exchanges, utilises a distributed system to verify each exchange and could be managed without a central authority. It is the underlying technology behind bitcoin which is on the rise, as big industry players including Facebook and Amazon have started to adopt it. Many developers and enthusiasts believe that blockchain technology is the future, which could be why it was one of the most tweeted technologies of 2018!

 2.  #Java
According to the 2018 TIOBE index, Java for another year running was ranked as the most popular programming language, with the most lines of code being written in Java. The languages popularity perhaps stems from the fact its user friendly and also its scalability;  appearing on mobiles, desktops and large scale applications. It's no wonder why Java programmers are amongst the highest paid programmers in the industry!

 3. #SmartCities
In 2016, spending on smart city technology reached $80 billion and is expected to increase to $135 billion in the coming years. Smart cities use technology and data to improve sustainability, economic development and enhance overall quality of life for those living in cities. With more than 60% of the world's' population expected to live in cities by 2050, the need is becoming greater for smarter cities with more streamlined services.

4.  #Robotics
Robotics has been a heavily discussed topic in 2018, both online and offline. Large industry players are continually investing in robotics, such as Honda with their ASIMO humanoid robot and Google's self driving car, Waymo. While the debate continues on how realistic humans want robots to be, progress is only increasing at an exponential rate with the lines between machine and man becoming blurred. Approximately 1 in 10 people in the UK own a smart speaker, but according to research by Accenture, 48% of a 1000 people survey believe their technology is always listening to them. So what's being said on Twitter?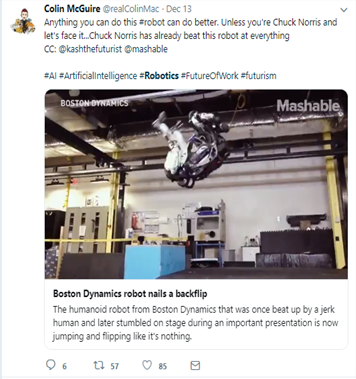 5. #Cloud
Now this one is broad, but 2018 has seen more and more companies adopting cloud computing services, such as Amazon Web Services (AWS) and Microsoft Azure. Cloud has completely changed the way business think about their IT resources, with servers, storage, databases, networks and much more being delivered over the Internet. The biggest reasons for shifting to the cloud include eliminating hardware costs, high performance and the on demand nature of the services.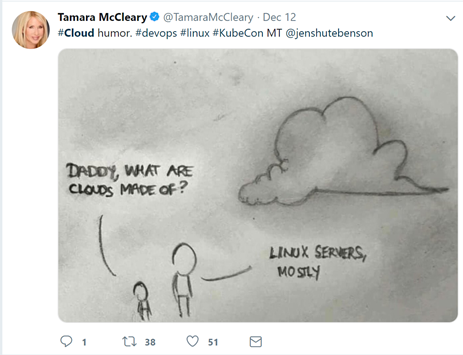 Other top trends for the year included #IoT, #BigData, #OpenSource and #iOS.
​
Follow
@SearchableHaz
for more #TechTrends (mostly #DevOps and #cloud!)