Searchability headed up to Edinburgh for this years EdIntelligence and AI Graduate Careers Fair. Alongside the big names such as Microsoft and Intel, Searchability set up their stall and got ready for their talk to Data Science Graduates.
Many of the talks focused around how companies are using Data Science, Machine Learning and Artificial Intelligence to make a real impact within society. Microsoft focused their talk around their determination to 'solve' cancer. You can find more details regarding this here.  
Amongst the many stands there were a few notable organisations, such as;
Voxsio – The creators of Alli-chat an AI driven chat bot which aims to help young people understand their mental health and ask for help when necessary.
Canon Medical – A part of the well-known brand Canon, this stand showcased the next generation medical imaging software and other AI solutions that are revolutionising the healthcare industry.  
To find more about which companies were present at the fair check out the EdIntelligence page.
Our talk looked into how you can best build your own 'employee/candidate brand' through multiple unstructured social platforms. We noted four key aspects into how to brand yourself and make yourself highly visible to potential employers.
You can do this by promoting yourself and getting yourself known in the industry. Promoting yourself may feel uncomfortable at times, but sharing relevant content, tweeting and interacting with those individuals with like-minded interests it can display a keen interest in this area.
Twitter is a great place to start however we all know Twitter can be the home to some strong views and serious debates. Whether it be who is next to be leaving Love Island or Brexit, so maybe you want to put your views on the internet – you might want to privatise this account. Why not create another account which is dedicated to Big Data, AI, Machine Learning or Robotics. Here you can show your interest in the data science industry achieving full visibility from potentially employees.
An example of someone who is visually enhances their profile on social media is Bernard Marr. He is an influential speaker and author in the data industry, someone to keep an eye out. Bernard's profile is a good example of someone who self-promotes, interacts and consistently posts relevant information.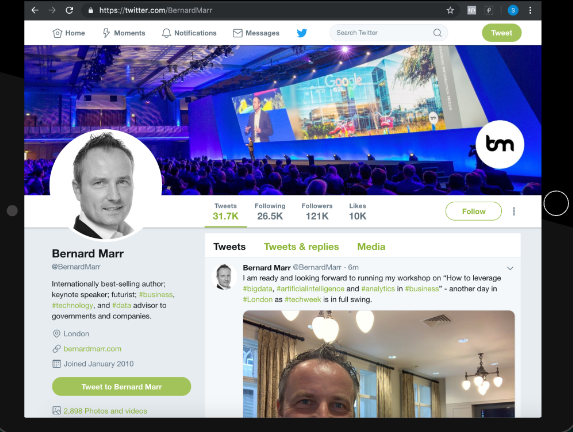 Another way of enhancing your visibility is through blog writing. The thought of writing a blog may seem terrifying at first but it's a great way to network with others and further share what you know! You could contribute to an organisation who creates articles in the Data Science industry, or simply create your own blogs about certain languages you have enjoyed and problem you have come across.
this is a great way to connect with people in your industry is a great way to understand the market. Connecting with CTO's and CEO's is a great way to see what your industry has to offer. Your Linkedin profile can serve as a flagship for your brand and create the image you want.
To show what technologies you are using you should include this in the 'Skills' section, as recruiters use a boolean search to find candidates if you are missing key words then you will be missed out of vital opportunities. Keep active and post often, this will increase likeability and gradually build the trust of potential employers. To enhance your visibility you should make yourself 'Open to opportunities' as recruiters we search for this element in Linkedin first, so make sure you are on that first page.
Here is Kasia's profile who has a PHD and is a data scientist in the industry, she also regularly blogs and goes to meet-ups, check out her Linkedin profile.
Showcase technical talent
In the world of technology you may have been involved in a lot of projects but no where to store these. Here are some platforms that will help to build a portfolio of the technologies you use and are interested in working with.
Github is an open source website were you can create your own projects and share ideas with others. With over 37 million users it is the largest host of source code in the world. You can cross reference this account onto your other social media platforms.
Kaggle is the world's largest industry specific platform made for data science, where like github you can add to projects and demonstrate your technical ability. The real key to Kaggle's success, is that you can be involved in competitions to test, and further develop your skills. These competitions rely on real-world data from real-world companies – adding extra motivation and excitement as the data is actually real! Prizes can be awarded up to £80,000, where the more points you get the higher the position you achieve on your profile.
Boosting your brand in person is the best way to, by getting involved with other people in the industry on more than just a professional level. Slack channels and meet-ups are a great way to meet people as well as keeping up-to-date with the latest technology trends.
Slack is a platform where you can interact with like-minded individuals, talking about everything from technology changes, queries, industry insights and general chit chat. Often influential people are also part of these channels but are willing to talk on an informal basis, with specific channels in each group to separate types of conversation.
Meetup.com is a great way to meet industry peers. You can set your location and interests to find multiple groups that you can attend. It will also email you notifications so you can keep up to date with the latest meetups.
So, by enhancing your visibility, networking with like-minded individuals, showcasing your technical talent and getting involved it can all help to brand yourself and get yourself seen!
After some interactive questions at the end of our presentation we found that…
Throughout our talk we emphasised how Linkedin is a great way to network with people on a professional level the you can enhance your viability through Twitter and blogging  to emphasise you industry knowledge.
With the Data Science and Machine Learning industry growing their is a skill shortage, so it's great to see Graduates want to go down this route.
So, by enhancing your visibility, networking with like-minded individuals, showcasing your technical talent and getting involved it can all help to brand yourself and get yourself seen.