Following the tragic death of George Floyd the world has stopped and listened to an overwhelming outcry for racial justice, with many taking to online platforms and attending physical demonstrations to show their support for the Black Lives Matter movement. #BlackLivesMatter was founded in 2013 with the mission to eradicate white supremacy and fight against unjust violence inflicted on Black communities, and right now, amidst a global pandemic, the movement has captured almost everyone's attention. We took a look at the ways that some organisations have been showing their support for the movement over the last few weeks, through their corporate and employer brands.
Nike: For Once, Don't Do It
Using a twist on the brand's trademark catchphrase "Just Do It", Nike has used their marketing platform in the wake of the death of George Floyd to spread a message of combatting racism. It's not the first time the brand has used their platform to show support (Nike famously supported NFL player Colin Kaepernick after he took the knee to support the Black Lives Matter movement, partnering with him on several occasions), however the video is not without controversy. Reports show that while 60% of people found the advert empowering, many people (who believed in the message) still felt that the brand was exploiting this to "sell shoes". It's a difficult balance for brands to strike, the important thing is spreading the message and supporting the movement, however those who are able to demonstrate exactly what actions they are taking as a brand and as an employer to combat racism.
Yorkshire Tea & PG Tips: #Solidaritea
Earlier this week a far-right vlogger based in Yorkshire took to Twitter to praise Yorkshire Tea for seemingly not supporting the BLM movement, and the brand was quick to respond to point out that the reason they hadn't commented at the time was because they had been taking some time to educate themselves and were planning proper action before they posted anything on the matter. The tweet also told the vlogger directly "please don't buy our tea again". PG Tips were quick to back this up in support by tweeting "If you are boycotting teas that stand against racism, you're going to have to find two new brands now #blacklivesmatter #solidaritea". When brands who would normally compete choose to unite over a shared belief it helps drive the importance of the message, and they have each received a positive response from BLM supporters online.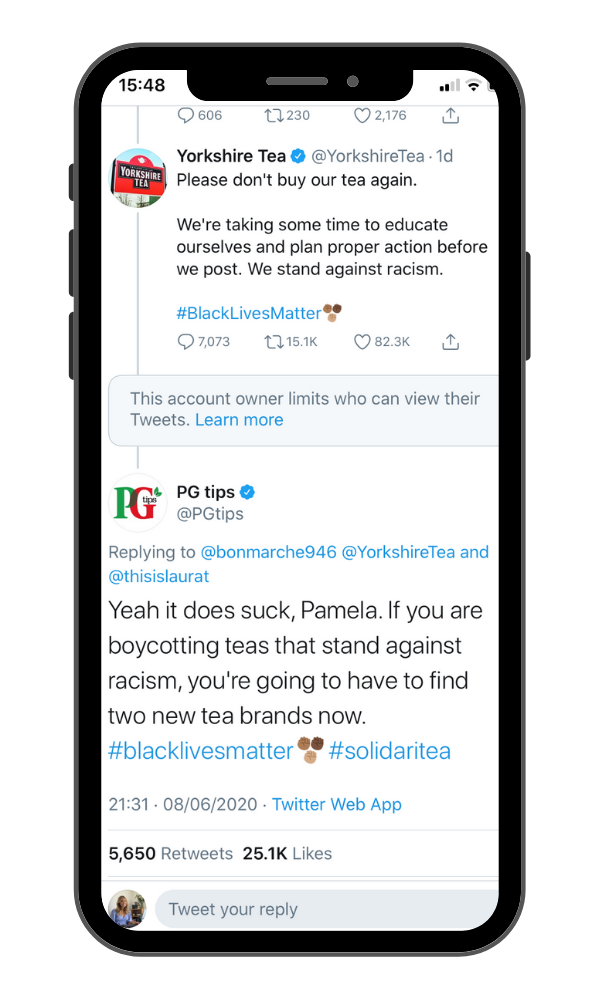 Selfridges: Elevating Voices
Earlier this week Selfridges shared the following message on LinkedIn:
"This week we made a commitment to elevate the voices of our people. Each and every one of us has a part to play in radically changing the systemic racism that impacts black lives everywhere. We must do better and we are starting with our own house first."
Selfridges shared the news that they are implementing a Diversity Board with an aim to drive meaningful change across the brand, starting with the essential issues raised by team members through Black Lives Matter. The brand shared some insights from employees around the subject, and so far, the response to their promise on LinkedIn has been positive. We will be interested to see how this evolves as the brand begins to implement their diversity board.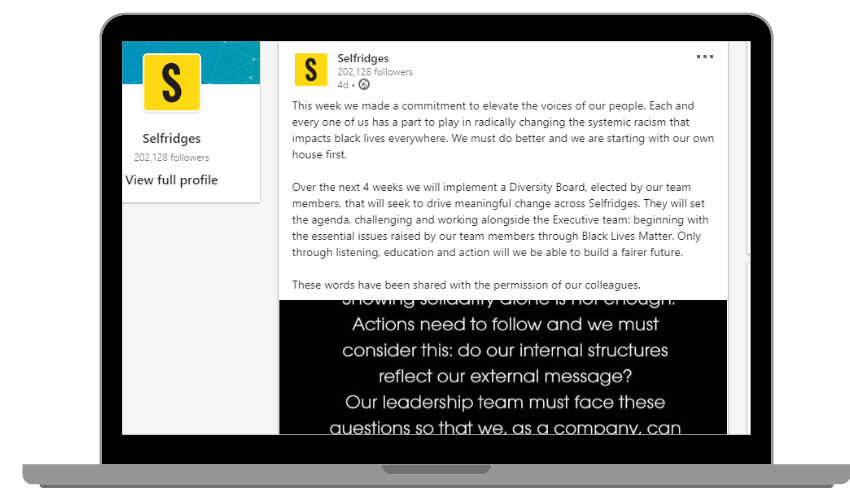 ASOS: We. Are. Anti-Racist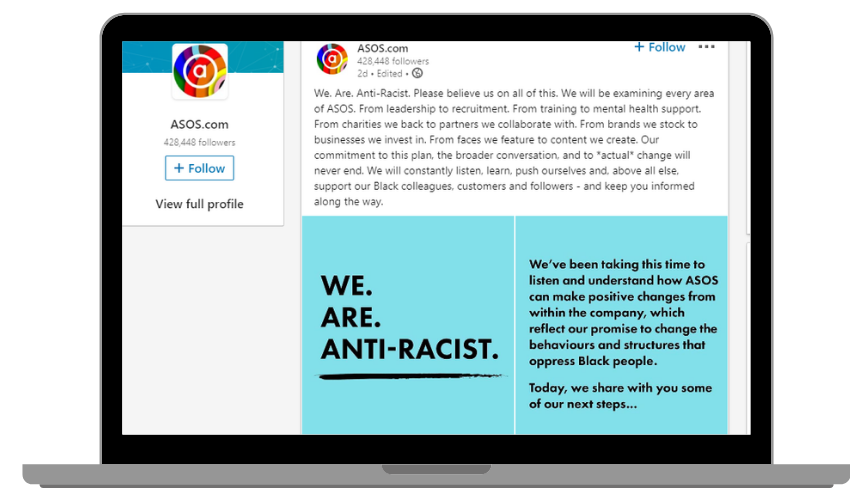 "We. Are. Anti-Racist. Please believe us on all of this. We will be examining every area of ASOS. From leadership to recruitment. From training to mental health support. From charities we back to partners we collaborate with. From brands we stock to businesses we invest in. From faces we feature to content we create. Our commitment to this plan, the broader conversation, and to *actual* change will never end. We will constantly listen, learn, push ourselves and, above all else, support our Black colleagues, customers and followers – and keep you informed along the way."
The response to this is a little more mixed than that of Selfridges, but the general consensus is that people hope the brand follows through with tangible changes and measures rather than simply making statements surrounding the matter. Again we will be interested to see the changes this could make in the way the brand approaches recruitment and employer branding too.
The Black Lives Matter discussion is not going away any time soon, and we expect to see more and more individuals and organisations demonstrating their support either through their corporate brand, or highlighting how they support POC through their employer brand too. It certainly has the world's attention right now, and we hope this can lead to positive societal change as a result.