Adverts can stay in your mind for a while, but of course the whole point of an advert is to remember the company and be the market leader. A meerkat on your screen – comparethemeerkat, I mean market.com or a big red lorry at Christmas – it's got to be Coca Cola. Here is a collection of some of the best adverts and campaigns created over the years.
An aesthetically pleasing advert bursting with colour and its unique element like no other has certainly stuck in my mind for a while is Sony. They created an advert using 250,000 bouncy balls and launched down a hill through the town of San Francisco, sounds like a strange concept, right? Directors had one shot to get this right and with command of 'lights, camera, action' the balls were released. At the the end all the bouncy balls were collected and given to local children who had turned up to watch the magic happen. Here is the extraordinary experience…
Civilised meerkats in suits are animals we see on our screens on a day-to-day basis, here we have market leaders – Compare the Market. Aleksandr the meerkat and Sergei have joined Arnold Schwarzenegger and Nicole Kidman on our screens to discuss their unbeatable comparing platform. Now, the meerkat section in the zoo has never been the same since! Aleksandr's life seems to be going alright with a recent advert showing him eating lobster on a river cruise, he must have used a compare site to get the best deal, SIMPLES!
Back in there day a simple picture was enough to say a thousand words, this one really caught my eye. Created in the 90's J&B whiskey created this simplistic advert with the use of just 2 words and 2 colours to get the message across. With the use of no video or visuals this clever and memorable advert says Christmas isn't the same without J&B!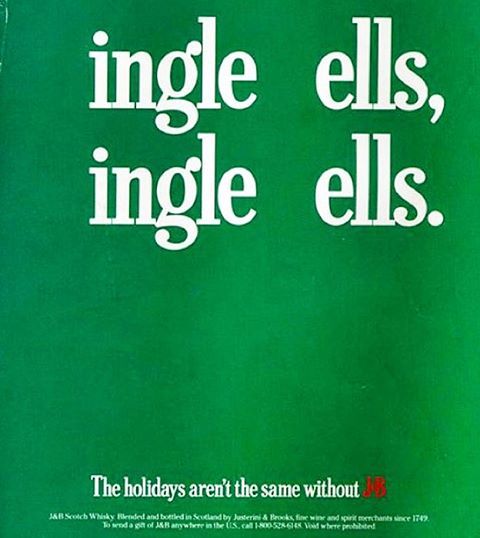 From Gorillas to dancing eyebrows Cabdurys have never failed to let us down in entertaining and memorable adverts. Phil Collins – In The Air Tonight will never be the same again, as all I can visualise is the famous Gorilla hitting a drum kit. 
Then the kids with the eyebrows, I spent days on end trying to raise my eyebrows as fast was these guys, forever wondering why I couldn't do it! 
If you have any other adverts that have stuck in your head and you find yourself singing along to them when you are just sat at your desk then I would love to know!