Is there more of a HumpdayHeadache than the weather? England is the only place in the world where you can experience all 4 seasons in one day.
You go out with a lovely dress on and some sandals with the sun high in the sky. Your commute to work is less than a 20 minute drive but can result in a complete climate transformation. As you start to jump across the puddles you just miss and that's it you have soaking wet shrivelled feet for the entirety of the day!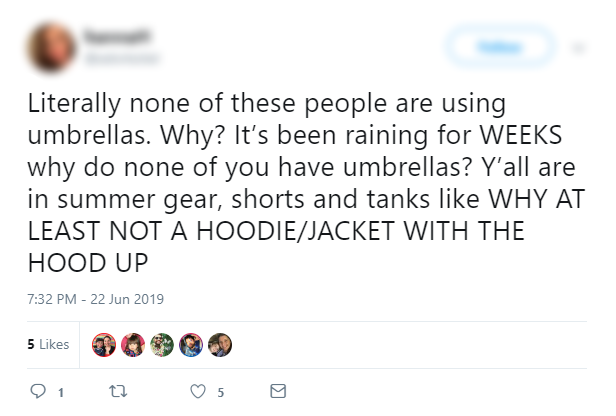 Getting dressed in the morning is a battle between three things – what your weather app says, the fact in will probably rain and the freezing aircon of the office. So you end up in some weird 3 in one outfit, a cute summer outfit paired with a thick hoodie and a rain proof jacket. You might be ready for anything but you also look so weird. 
Just take a look at these news headlines from this morning "UK weather forecast: Two weeks of rain in one morning but 30C on way" WHY IS IT PLAYING WITH MY EMOTIONS? By the end of the summer you are so angry about the weather.
And then finally its glorious, hot and bright! Everyone gets their swimwear out, men take their tops off in the middle of the street (wait until you get home Paddy!!). Wow 30 degrees this weekend, so let's plan a BBQ? You go to Costco and spend a quarter of your monthly wage on the most succulent Aberdeen angus. Guess what? It snows so you have to do 5 at a time in the oven instead.
We were never expecting anything amazing, I mean it is the UK, but it's the end of June… surely we can just have a little sunshine and a couple of days with no rain? This time last year everyone was in the pubs beer gardens having pints after pints with England in the World Cup and the sun shining, take me back!!