Half of the world's population (3.03 billion people) are on some type of social media. The average Brit checks their phone as much as 28 times a day, so it's understandable for people to ask "is social media holding too much influence over our lives?". The societal shift towards the internet is evident, with platforms like Instagram, Facebook and Twitter skyrocketing in popularity. But like many new inventions, the effects aren't known for years. 
But what does social media mean for those working in the tech industry?
Twitter is the home to many tech communities for like-minded individuals to communicate about their common interests. In other words, it can be a way of opening your eyes to things that you didn't even know existed. For Developer Dan Englishby, Twitter made him realise that there's a community of developers that he can access and talk to easily. It's now easier than ever to stay up to date with the latest #Trends and insights into a local meet-ups.
Communities on Twitter such as Code First: Girls have extended their reach through the platform and been able to connect people with similar aspirations and interests. CEO Amali de Alwis highlighted this stating it "allows me to connect with our community in a way we would never be able to otherwise".
For connecting with fellow techies and starting conversations, it's clear that Twitter comes out on top. Jonathan Relf cited Twitter as the platform that's impacted him the most, as many tech professionals don't use Facebook for work interests.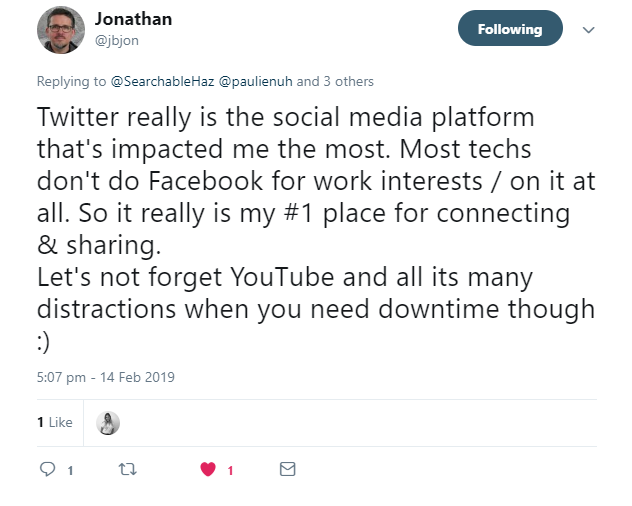 For Jonathan, the power of Twitter has opened up many opportunities to speak at events around the country such as Tech Nottingham.
Although Twitter  is great for sharing interests and engaging, with positives come negatives too. Social media platforms have been known to lead to negative self esteem as so many strive to create the 'perfect image' at a detriment to mental health. In part, this is due to the huge amount of unfiltered information, which give people a platform for spiteful opinions and "trolling". John Best found that "personal infosec can be a big issue as it's easier than it should be to accidentally make yourself a target of the wrong kind of people".
To secure your next tech job through social media, LinkedIn is the platform. In her blog, "Building up on LinkedIn", Pauline Narvas explains how to utilise LinkedIn to boost your career. For maximum impact, starting with a strong summary is key to become more searchable to specific industries. The power of LinkedIn enabled Pauline to secure summer placements, sending her profile as a CV instead of customising one to each company and saw great results!
How has social media impacted you?