Monday 2nd March 2020, the first day of my new role as a Digital Delivery Consultant at Searchability. I woke up feeling a mixture of emotions, from anxious and intense to excited and motivated. Being a 'newbie' at any job role can be daunting, however, we all have to start somewhere. Before setting off I had my regular, some weetabix and a protein shake to fuel my morning. The weather looked promising for a sunny first day in the office.
What the first day as part of the Hollering's team looks like:
When arriving at the Searchability building, I was welcomed at the reception and taken up to the 5th floor. Today was not just new for myself, but it was a new day for everyone. It was the day of the new office move. The interior of the headquarters took me by surprise, my colleagues were overwhelmed by the improvement that had been made to their new working space. I felt extremely lucky to be able to work in such a modern and quirky environment with a view from my desk.
I arrived at my new work space to find a welcome card waiting for me, left by Hollerings, my new team. This automatically made me feel welcomed and set me off to a positive start for the day. I was briefly introduced to the recruiters and everyone seemed so polite and friendly. My first impressions of the job were looking great so far. Hollering's provided me with a weekly schedule and other important information that I need to familiarise myself with. We sat and had an informal chat where the girls explained to me some of the job roles that I would be required to complete. They introduced me to our new Holler Pod. This is a room specifically for our team, where we have a space to have any meetings and a set up for our soon to be coming Podcasts, exciting !!!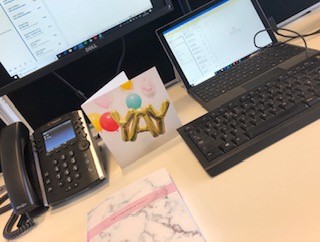 I was not the only new starter of the day as I was joined with 4 other newbies. We were taken for a welcome chat where we ran through any kind of information that was essential for us to know during our time at Searchability. As it was the first day in the new and improved office, it was a day of celebration for everyone. The team were offered a glass of champers to recognise the hard work that the team had put into the business. I finished off my afternoon by completing all my social media set-ups and I completed my online training on how to use the business' software.
Overall, my first day was a success. I am hopeful that I will be able to pick up the role quickly and I will feel like part of the team in no time. The first day for any new job can be overwhelming, getting used to new faces and adjusting to the demands of the job role can seem challenging. The days ahead are going to be testing. However, I'm sure I will quickly find my feet everything will become a second nature to myself. I'm looking forward to my future with Searchability.